Fort Collins Recycling & Donations
We operate a donation center in Fort Collins that accepts thrift donations and recycling. Our goal is to help keep our community green by giving gently used items a second home and making sure that you can recycle items that most other places won't accept.
Here's how donating and recycling with us works.
Our Donation Process
When you bring your items into our donation center, our expert team will take a look at them and then accept them. It's really that simple. Let's take a closer look at our donation process.
What We Accept
When it comes to thrift donation, our thrift shop takes almost everything you bring us. Usually, if we can't accept it, we will recycle it. Our goal is to make sure that everything avoids the landfill and finds a home either in our thrift stop or as part of our total recycling program.
Here's a quick look at a few of the more common items that we accept.
What We Accept
Small Appliances
Furniture
Antiques
Gently Used Clothing
Tools And Hardware
Yard And Garden Items
Stereo Equipment
Electronics
Working Computers, Less Than 5 Years Old
Outdoor Sporting Goods
Household Items
House Plants
Skis And Snowboards
Sporting Equipment
What We Do Not Accept
Infant Wear And Gear
Car Seats
Ceiling Fans
Items With Excessive Pet Hair
Items With Excessive Smoke Odor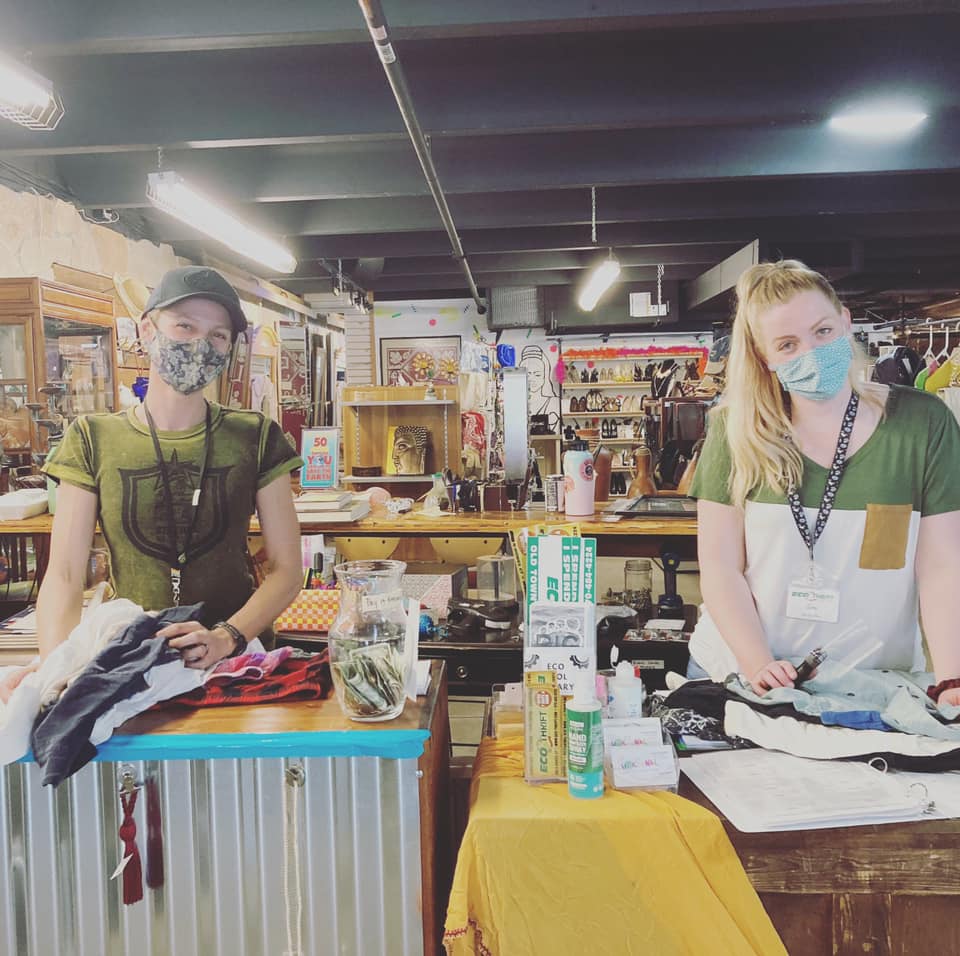 Recycling at Eco-Thrift
Our thrift store also handles a variety of recycling projects. Whether you've got an old computer that no longer works or you're looking to upgrade your mattress, we can handle any recycling for you.
Here's how we recycle electronics, metal, and old mattresses.
Recycle E-Waste
Eco-Thrift is accepting obsolete and non-working electronics such as computers, monitors, televisions, printers, and other items with circuit boards for re-cycling. We charge a fee based on type and size for recycling these items. Please call the store for more information.
We work with reputable e-waste recyclers in Northern Colorado to assure that all electronics that pass through our hands are ethically dismantled and disposed of. Eco- Thrift works with IT Refresh, a reputable company for ethically disposing electronics.
Metal Recycling
We offer a wide array of metal recycling services to help you clear out some of that old junk you've got lying around. Whether you've got some old aluminum ladders that you're looking to get rid of or you've got some metal waste from a construction project, we can recycle these materials for you.
We take almost every type of metal at our metal recycling facility. Feel free to give us a call ahead of time if you have a question about some of the items that you're bringing in.
For example, we will recycle your old lawn chairs, aluminum ladders, that old coffee can of rusty nails, leftover plumbing projects, etc…
Fees apply only for small and medium sized appliances.
Recycle Your Old Mattress
Getting rid of an old mattress is one of the hardest things to do. Luckily, our recycling center takes every type of mattress and box spring. We charge a low $35 base fee for mattresses and box springs, and we handle everything from there. All you need to do is bring in your old mattress, and we'll take care of the rest.
Eco Thrift is excited to announce a newly added partnership with SpringBack Mattress Recycling. We accept all mattress and box spring units. There is a base $35 fee for each individual mattress and/or box spring. If you require a pick-up service for your mattress or box spring, call SpringBack directly at 720-515-1328.
Contact Us Today to Donate and Recycle in Fort Collins
Our donation center is open all year long so that you can bring your gently used items for donation or recycling. Our thrift donation center is happy to find your old items a new home and handle your e-waste, metal, and mattress recycling.
Bring your items in today to get in touch with us with any questions about our donation center in Fort Collins!