Fort Collins Thrift Store
Our thrift store is part of a commitment to help keep Fort Collins green. By offering great deals on thrift store finds, recycling, and an Eco-Tool Library, we hope to leave our community a little greener than we found it.
Here's what you'll find when you stop into Eco-Thrift.
Welcome to Eco-Thrift 
We are a locally owned and operated thrift store in Fort Collins partnering with other socially minded businesses and nonprofits to bring more sustainability to our city. Our mission is to repurpose donated items back into the community and create a welcome, safe, all-inclusive space while encouraging environmental awareness.
By offering great deals on lifestyle essentials, helping with hard to recycle items, and offering the EcoTool library, we hope to leave our community a little greener than we found it.
We Accept Donations and Recyclables
We are always grateful to accept your donations! Without the help of our community, Eco-Thrift wouldn't be possible. Bring in your gently used items, and we will happily find a new home for your treasures.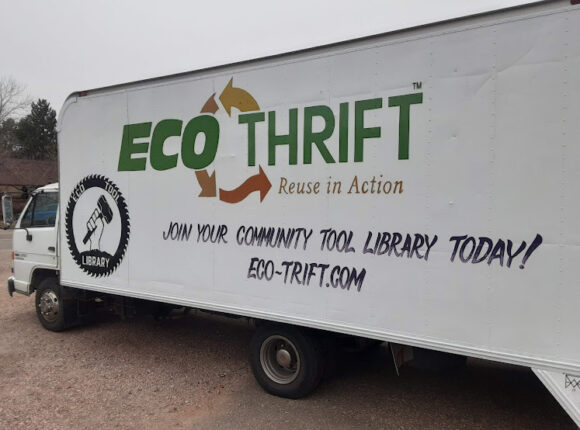 Eco-Thrift also takes some recyclables! We help you recycle metals and  old mattresses and box springs. We've recently partnered with SpringBack Mattress Recycling to help reduce mattress waste and for a base fee of just $35 per mattress/box spring, you're helping someone in need. For more information on mattress donations, hours, and what we accept, visit our donation page.  WE NO LONGER ACCEPT ELECTRONICS TO BE RECYCLED.
Check Out the Eco Tool Library
What if you could borrow any tool you needed, without the hassle of expense? Our tool library works just like the library that you're used to. We want to be that neighbor lending you the cup of sugar you need to finish the cake! For as little as $9 a month, we offer a huge selection of gardening, kitchen, electronic, household, and power tools to make your projects cheaper, easier and eco-friendly. Check out our tool library inventory HERE.
…or Swing By Funktional: A Space for Radical Reuse! 
Are you looking for something a little bit more 'funky?' Swing by Funktional, located in Campus West! It's our boutique thrift store that carries high-end unique items you won't find anywhere else. You'll be sure to find both vintage and modern steals that give you that special flair you're looking for.
Reach out to us today with any questions you have! We can't wait to see you in our thrift store!